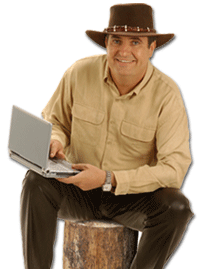 G'day... My name's Rob Wilson, or as I'm known in the industry, "Aussie Rob". I think it's really important for those of you who do not know me as yet, to understand that I am a trader. I, just like you, have been looking for the holy grail. I retired from the Rat Race and traded for a living while traveling the world undertaking every course I could get my hands on, subscribing to all of those newsletters and buying countless pieces of software, books, CDs, videos bla la bla...
I finally found my calling in life, teaching others how to trade. In each of my training sessions the same old stumbling block kept raising it's ugly head. Analysis Paralysis.... Virtually every trader that I came across was spending hours and hours analyzing trades. As if one computer screen covered with streaming data wasn't enough.... Many had two monitors on their desks, some had three and even four.
Those days are now over, the new way to trade is here.
Aussie Rob's Trading Opportunities
Training and software for trading in options, shares, stocks and commodities
click here for the official Aussie Rob website!
G'day, Aussie Rob here... I'm really excited to introduce you to my brand new website. This site is being created with a focus on "lifestyle trading". That's simple, stress free trading that does not require you to be sitting in front of your computer all day/night.

Simple.... I can help you become a more successful trader with:
Education: I teach the "simple stuff that works" . No fancy strategies that require a degree in Rocket Science. No analysis paralysis. Simply log onto your computer for half an hour or so a day, enter, amend or exit your trades. Shut down your computer and get on with life. Read my testimonials and you'll soon learn that what I teach actually works !
Trading Tools: Traders know that there are only two things that you have to know to make money trading. 1. When to get in. 2. When to get out. That's it. Nothing more, nothing less. My revolutionary Lifestyle Trader will help you to do just that! Check it out on my Products page.
Education takes place via online manuals, newsletters, CD's and seminars.
A few years back I created my first Options Training Course called "Options Simplicity". It was to be a 12 month course whereas subscribers would receive a CD every month for 12 months. It was stopped short when I partnered with GlobalTec to create Options Made Easy. Anyway, I still meet people today that compliment me on what they learned from the first two CDs. Now I must warn you, they were not a million dollar production but it's the content that matters. They have proven to be the pinnacle of simplistic, step by step instruction on the basics of options. It is this basic fundamental knowledge that both novice and experienced options traders just have to know
The objective of the Newsroom is to enable you to read back issues of my newsletter. My newsletter includes all sorts of goodies to help you become more proficient with using my software and to provide you with a source of regular trading tips! All designed to help you become a better trader!
Trading Tools are available online.
Aussie Rob's Lifestyle Trader software is revolutionizing the way that people trade. It is a true "trade-all" program that can help you know exactly when to get in and when to get out of trades to maximize your trading profits.
Brokerage services including FOREX, Commodities, CFD and Stocks and Options.
Gone are the days of paying exorbitant Full Service Brokerage fees... "Welcome to Aussie Rob's Deep Discount Brokerage ~ Aussie Rob Financial Services Pty Ltd".
Forthcoming: DVD series on trading in options, stocks, commodities and technical analysis. DVD training to help you become a better trader!
Born and bred in Australia, Aussie Rob moves through Brisbane, Queensland, enjoying time on the Sunshine Coast and Gold Coast, and all other states. Aussie Rob's expertise and software is available to the global trading community.
Contact Aussie Rob at: rob@aussierob.biz